​ First Guaranty Bank's JoEllen Juhasz announced as one of Independent Banker's 40 Under 40: Emerging Community Bank Leaders
FOR IMMEDIATE RELEASE
Contact: Alton Lewis, CEO
First Guaranty Bank
(985) 375-0350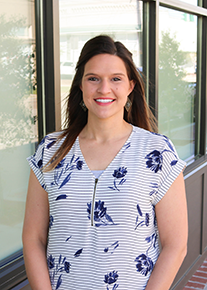 First Guaranty Bank's JoEllen Juhasz has been named one of Independent Banker's 40 Under 40: Emerging Community Bank Leaders. The first-annual, nomination-based award recognizes up-and-coming community bankers who demonstrate exceptional potential in leadership, innovation and community work.
Juhasz serves as First Guaranty Bank's Bank Secrecy Act (BSA) Officer and works to protect financial systems from money-laundering, terrorism and other fiscal crimes. Her dedication to her field and to her community make Juhasz an ideal selection for Independent Banker's 40 Under 40: Emerging Community Bank Leaders.
"My vision of community banking is a financial institution that takes pride in their community and customers that they serve," said Juhasz. "We have an advantage at understanding the needs of the community and we can customize our services to best fit our customer's needs. Furthermore, understanding the communities that we serve enables banks to apply appropriate risk management processes to ensure compliance with federal laws and Bank Secrecy Act. "
"This group of young professionals should give all of us a sense of pride and optimism as we look to the future of America's community banks," said Matt Kusilek, publisher, Independent Banker. "Now more than ever, this industry sees the value of the energy and ideas of people like our emerging leaders, who believe in the importance of the community banking model. We're really pleased to be able to highlight their accomplishments so far and look forward to what they'll do next."
Juhasz will be featured in the June 2019 issue of Independent Banker, which will be showcased on the Independent Banker website and accessible via the digital issue of the magazine.
About First Guaranty Bank
For over 80 years First Guaranty Bank has proudly served local communities with a commitment to customers. First Guaranty Bank currently operates twenty-six branches throughout Louisiana and Texas and with the power to make loan decisions on a local level. First Guaranty has the strength to help meet the needs and expectations of customers.
About Independent Banker
Independent Banker is the number-one source of community banking news for ICBA members. Published monthly, the magazine features best practices from experts, stories from community banks themselves, thought-provoking features and news of how ICBA is fighting for the industry on Capitol Hill. Learn more at independentbanker.org
About ICBA
The Independent Community Bankers of America®, the nation's voice for community banks of all sizes and charter types, is dedicated exclusively to representing the interests of the community banking industry and its membership through effective advocacy, best-in-class education and high-quality products and services. For more information, visit ICBA's website at www.icba.org