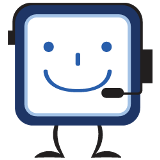 Meet MiBY
MiBY is an Interactive Teller Machine, or ITM for short. The newest member to the First Guaranty Bank team, MiBY provides state-of-the-art, face-to-face experience that provides you faster service and extended drive-thru banking hours. When you use an ITM for your banking business, you'll be able to do the following:
Make Deposits
Withdraw cash
Check Balances
Transfer Funds
Loan Payments
Check Cashing
MiBY Locations & Hours
Visit MiBY at select locations including Amite, Denham Springs, Denton, Hammond (Guaranty West), Hammond (Main Branch), Kentwood, Ponchatoula, Bossier City, and Southeastern Louisiana University's Student Union (in the Lion's Den Game Room)!
Amite ITM

632 West Oak Street

Amite, LA 70422

Monday-Friday 8:00 AM to 6:00 PM

Saturday 8:00 AM to 1:00 PM

Denham Springs ITM

2231 South Range Avenue

Denham Springs, LA 70726

Monday-Friday 8:00 AM to 6:00 PM

Saturday 8:00 AM to 1:00 PM

Guaranty West ITM

2111 West Thomas Street

Hammond, LA 70401

Monday-Friday 8:00 AM to 6:00 PM

Saturday 8:00 AM to 1:00 PM

Hammond Main Office ITM

400 East Thomas Street

Hammond, LA 70401

Monday-Friday 8:00 AM to 6:00 PM

Saturday 8:00 AM to 1:00 PM

Ponchatoula ITM

500 West Pine Street

Ponchatoula, LA 70454

Monday-Friday 8:00 AM to 6:00 PM

Saturday 8:00 AM to 1:00 PM

Bossier City ITM
4221 Airline Drive

Bossier City, LA 71111

Monday-Friday 8:00 AM to 6:00 PM

Saturday 8:00 AM to 1:00 PM

Kentwood ITM

723 Avenue G

Kentwood, LA 70444

Monday-Friday 8:00 AM to 6:00 PM

Saturday 8:00 AM to 1:00 PM

Denton ITM


2209 West University Drive

Denton, TX 76201

Monday-Friday 8:00 AM to 6:00 PM

Saturday 8:00 AM to 1:00 PM

SLU Student Union ITM

(Lion's Den Game Room)

303 Union Ave

Hammond, LA 70402

Monday-Friday 8:00 AM to 6:00 PM

Saturday 8:00 AM to 1:00 PM