Get card protection and peace of mind in the palm of your hand with FGB SecurLOCK. Download the free app that gives you the ultimate control! SecurLOCK is available for personal and business accounts.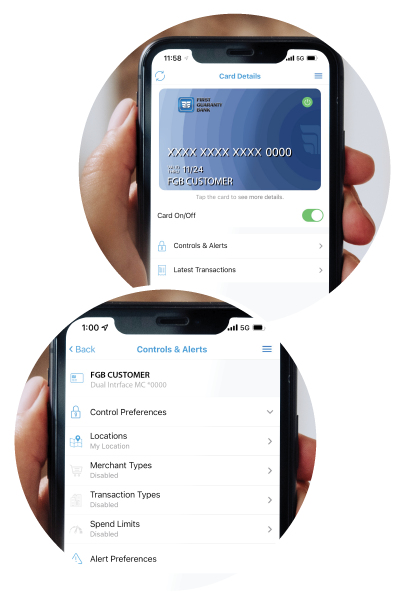 Real Time Alerts
Receive immediate push notifications sent to your phone. You can select to be alerted on all payment transactions or you can choose to be alerted for selected transactions.

Transaction Controls
Turn your cards on or off and set controls by merchant type, geographic location and more.

Spend Limits
Set transaction spend limits per transaction or per month to control spending.

Transaction History
View recent transaction history and make memos on transactions.
Frequently Asked Questions
What is SecurLOCK™ Equip?
SecurLOCK Equip is a mobile app that allows you to control how, when, and where your debit and/or credit cards are used. It is a simple and secure way to manage and monitor your payment transaction activity. SecurLOCK Equip can help keep your payment cards safe and provide instant notifications whenever your card is used.
What is required to use it?
SecurLOCK Equip requires you have a credit and/or debit card account issued from First Guaranty Bank. You will also need an Apple or Android smartphone. After downloading the app, you will be instructed to enter your full card number followed by additional authentication information. Once registered, you can begin using the app immediately.
How do I get the SecurLOCK Equip app?
SecurLOCK Equip is available on both Apple and Android mobile devices. If you have an iPhone, you can download the app from the Apple store. If you have an Android phone, you can download the app from the Google Play store. Once the app has successfully downloaded to your mobile device, you can begin the card registration process.
Is there a fee to use the app?
No. It is provided to you at no cost so you can have more control over your card.
How many cards can I register?
There is no limit as to how many cards you can register. However, we recommend registering no more than 20 cards to a single profile. Any more than the recommended number may affect app performance. The card(s) must have been issued from First Guaranty Bank.
What kind of cards can I register?
Debit and credit cards can be registered as long as they have a 3-digit CVV key. Normally, ATM cards are the ones that do not have this code, therefore are ineligible for registration.