FGB Welcomes New Board Member
For Immediate Release
Contact: Alton Lewis, CEO and Desiree Simmons, SVP
First Guaranty Bank
(985) 375-0350/(985) 375-0473
FIRST GUARANTY BANK WELCOMES
NEW BOARD MEMBER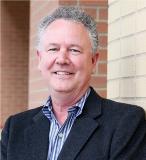 Hammond, LA, July 5, 2017 – First Guaranty Bank is proud to announce that Bruce McAnally of Austin, Texas, has joined the Board of Directors. Mr. McAnally previously served as the Chairman of the Board of Directors of Synergy Bank of McKinney, Texas and as a member of the Board of Directors of Premier Bancshares of McKinney, Texas, recently acquired and merged into First Guaranty Bancshares. Mr. McAnally is a native of Bonham, Texas, was a 1977 Summa Cum Laude Graduate of Southwestern Oklahoma State University School of Pharmacy. He has served as a director of Paragon HealthCare, Inc. since its formation in 2002, and currently serves the company in the position of Chief of Information Technology. Mr. McAnally also owns and operates a small chain of retail pharmacies in North Texas that he began in 1980, and for which he currently serves as Chairman of the Board and Chief Executive Officer.
Mr. McAnally brings to the First Guaranty Bank Board an extremely successful history and career as a Pharmacist and as a business founder and developer in the fields of pharmacy operation, pharmacy support services, and software development. Alton Lewis, CEO of First Guaranty Bank, states "Mr. McAnally has great knowledge of banking and of business opportunities in the Dallas/Fort Worth and Waco, Texas areas. He adds great new perspective and experience to the Board of Directors of First Guaranty Bank."
First Guaranty Bank, a Louisiana state-chartered bank, founded in 1934, offers a wide range of financial services and focuses on building client relationships and providing exceptional customer service. First Guaranty Bank currently operates twenty-seven branches throughout Louisiana and Texas. First Guaranty's common stock trades on the NASDAQ under the symbol FGBI.
For more information, visit www.fgb.net.