How FGB Protects Your Information
Nov 11, 2020
It is important to remain vigilant and careful about sharing personal information online. To help you monitor potential threats, we have the following services available:
Falcon:
Falcon is an ATM/Debit card fraud detection and prevention service for our customers. Falcon is an automated system that will contact you in the following order: text message, email, and phone call, to verify suspicious card transactions.
NOTE: Falcon will NEVER ask you for your Debit Card number. They will only verify the last 4 digits of your social security number. Your caller ID will show 1-855-961-1602 or text from 869-75.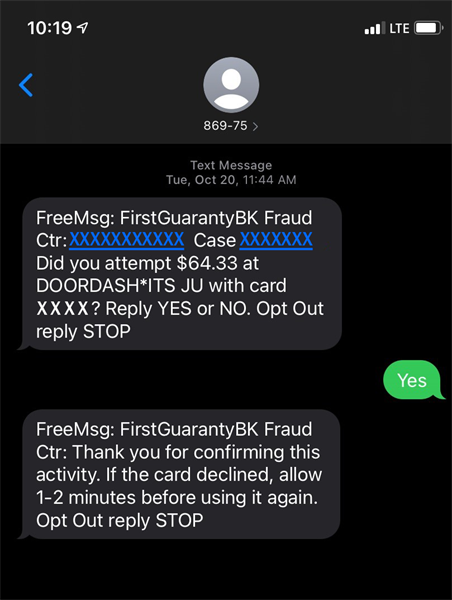 FGB SecurLOCK:
You can get card protection and peace of mind in the palm of your hand with our FGB SecurLOCK app. SecurLOCK is available for personal and business accounts and gives you the ultimate control! From the app, you can turn your cards on and off, control where your cards are used and receive instant alerts to monitor spending. Read more about the app here.
IDProtect:
IDProtect is one of the Club Benefits from our Active Club or Advantage Club Checking accounts. It helps better protect you and your joint account owners by monitoring possible identity theft incidents. This service1 includes credit file monitoring2, credit report and score3, monitoring of over 1,000 public databases, identity theft expense reimbursement4, fully managed resolution services, and more.
For more information and tips about protecting yourself from online fraud, read this blog. You can also check out our privacy policy here.
1 Benefits are available to personal checking account owner(s), and their joint account owners subject to the terms and conditions set forth in the Guide to Benefit and/or insurance documents for the applicable Benefits. Benefits are not available to a "signer" on the account who is not an account owner or to businesses, clubs, trusts organizations and/or churches and their members,
or schools and their employees/students.
2 Credit file monitoring may take several days to begin following activation.
3 Credit Score is a VantageScore 3.0 based on single credit bureau data. Third parties may use a different VantageScore or a different type of credit score to assess your creditworthiness
4 Special Program Notes: The descriptions herein are summaries only and do not include all terms, conditions and exclusions of the Benefits described. Please refer to the actual Guide to Benefit and/or insurance documents for complete details of coverage and exclusions. Coverage is provided through the company named in the Guide to Benefit or on the certificate of insurance.
Insurance Products are not insured by the FDIC or any Federal Government Agency.
Not a deposit of or guaranteed by the bank or any bank Affiliate.