FGB NAMES MERGER AND ACQUISITIONS DIRECTOR
For Immediate Release
Contact: Alton Lewis, CEO and Desiree Simmons, SVP First Guaranty Bank
(985) 375-0350/(985) 375-0473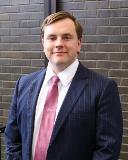 HAMMOND, LA, February 2, 2018 – This year has already been quite exciting at First Guaranty Bank (FGB). There's been a few notable promotions that must be touted. Effective January 2018, Evan Singer has been promoted to the position of Merger and Acquisition Director.
As Merger and Acquisistion Director, Mr. Singer is responsible for the direction of our merger and acquisition process and the integration of new organizations and facilities into FGB. In addition to his new role, Mr. Singer will continue as Regional Manager of the Greensburg Region, supervisor of Purchasing & Facilities, and BSA/Fraud Department. "Evan's new responsibility is extremely important to our continued success. Over the past few years, Evan has demonstrated great ability has he has guided the North Louisiana and Greensburg Regions to tremendous success. I don't have any doubt he will bring the same success to his newly acquired role," stated Alton Lewis, CEO and President of FGB.
Mr. Singer states, "I am excited to begin formally directing First Guaranty Bank's Merger and Acquisition processes as we grow to a regional bank headquartered in Hammond, LA. We have had many successful acquisitions so far; my goal is to continue our strong progress towards a fortress balance sheet."
First Guaranty Bancshares, Inc. is the holding company for First Guaranty Bank, a Louisiana state-chartered bank. Founded in 1934, First Guaranty Bank offers a wide range of financial services and focuses on building client relationships and providing exceptional customer service. First Guaranty Bank currently operates twenty-seven branches throughout Louisiana and Texas. First Guaranty's common stock trades on the NASDAQ under the symbol FGBI.