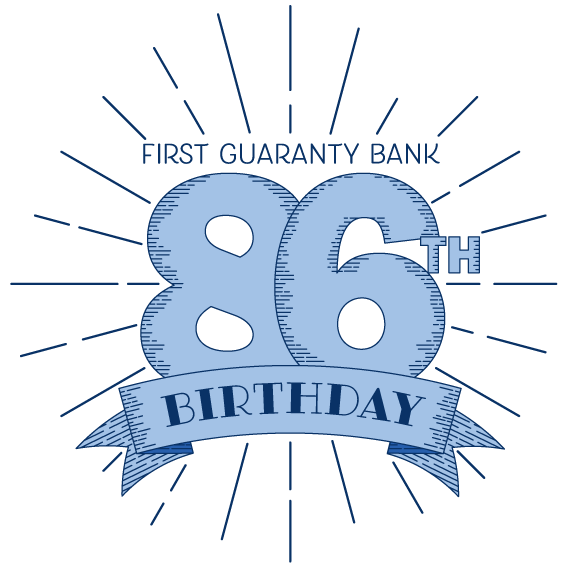 It's our Birthday and we want to celebrate with you!
Eighty-six is a big year for us! We started out with just a handful of locations serving Tangipahoa Parish and now, we've grown to include thirty-four branches throughout Texas and Louisiana! We've extended our Customer Support Center hours and are constantly looking for ways to grow and better our products and services for our customers. Now, that's something to celebrate!
Speaking of celebrating, this year for our birthday, we're giving away (3) three "Apple Packs" containing an Apple Watch Series 5 and a set of Apple Airpods. Read the Official Rules below and enter for a chance to win!
GIVEAWAY CLOSED!
Official Rules

"Apple Pack Giveaway" Sweepstakes
No purchase necessary to enter or win.
These are the Official Rules for the First Guaranty Bank "Apple Pack Giveaway" Sweepstakes ("Sweepstakes") sponsored by First Guaranty Bank ("Bank" or "Sponsor"). By entering the promotion, participants agree to comply with these Official Rules.
How to Enter

No purchase necessary to enter nor does any purchase improve an entrant's chance of winning. There are 3 ways to enter:

Enter online. Fill out the entry form located here.

Stop at a First Guaranty Bank Branch and fill out an online form.

Send a 3x5 white index card to us via USPS mail, legibly print or type your name, complete street address, city, state, zip code, telephone number and email address.

Mail the card to:
First Guaranty Bank, Attn: Marketing Department,
400 East Thomas St.
Hammond, LA 70401
*The entry is eligible based on the day the Sponsor receives it, not the date postmarked.
Limit one (1) entry per account. Anyone found to have made multiple entries will have all entries voided and be ineligible to enter or win the Sweepstakes. All entries become the exclusive property of the Sponsor, and none will be acknowledged or returned.
First Guaranty Bank reserves the right to change the rules at any time during the Sweepstakes period.
Entry Period
The entry period begins March 9, 2020 at 9:01 AM Central Time (CDT) and ends on March 31, 2020 at 11:59 PM Central Time (CDT). Entries received outside of this time frame will be discarded without review or reply. Sponsor's time clock is the official clock for this Sweepstakes.
Eligibility

No purchase is necessary to enter this Sweepstakes. This Sweepstakes is open only to persons who are (i) Louisiana or Texas residents, (ii) eighteen (18) years of age or older, and (iii) have agreed to these Official Rules. Employees of First Guaranty Bank and their respective immediate families, including household members, agents of First Guaranty Bank and their respective affiliates, parent organizations, subsidiaries, divisions, trade partners and other vendors, and advertising and promotion agencies and associated marketing firms are not eligible to participate in this Sweepstakes. First Guaranty Bank reserves the right to verify eligibility qualifications of the Prize winner. Entrants entering on behalf of a business will need to show proof of eligibility to receive prizes on behalf of business. An individual will need to show proof of eligibility to receive the prize on behalf of a business.
Prize
Three grand prize winners will be chosen
- Each winner will receive an Apple Pack consisting of one (1) Apple Watch Series 5 and one (1) set of Apple AirPods with charging case
No transfer or substitution of the Prize is permitted, except by First Guaranty Bank, in its sole discretion. The winners will be issued a 1099 miscellaneous income tax form and First Guaranty Bank will notify the appropriate state and federal agencies, as required by applicable law. Winners are responsible for all tax consequences (if any) of the prizes. Each winner acknowledges this responsibility by entering the sweepstakes. The winner that accepts the prize agrees that the prize is awarded on the condition that First Guaranty Bank and its agents, representatives, affiliates and employees will have no liability whatsoever for any injuries, losses or damages of any kind resulting from acceptance, possession or use of the prize.
Prize is not redeemable for cash.
Winner Notification
Each winner consent to be notified via email or phone to the email address or phone number provided in the registration for the Sweepstakes. The winners will be given 3 business days to respond via email to "customersupport@fgb.net" or via phone call confirming their win. If a winning name is not confirmed back within 3 business days of email notification or phone call by the Sponsor, the winners will be disqualified. A replacement winner will be drawn.
The winner will be photographed as part of announcement process. The only information given to the public as part of the announcement will be name and location of the winner.
Each winner will be announced on First Guaranty Bank's Facebook and LinkedIn and may additionally be announced on the First Guaranty Bank website at www.fgb.net. To obtain a list of winners, send a self-addressed, stamped envelope to: Attn: Marketing Dept 400 East Thomas Street Hammond, LA 70401. All such requests must be received by Friday, April 10th, 2020.
Selection and Odds of Winning

Subject to these Official Rules, a designated First Guaranty Bank official will select the Prize winners by random drawing from among all eligible entrants by Friday, April 3rd, 2020.
Prizes will be awarded within approximately 30 days after the winners have been verified.
Odds of winning will vary depending on the number of eligible entries received.
Release and Limitation of Liability
Neither the Sponsor, nor its parent or affiliates, nor their respective agents, officers, directors, employees, agencies, or attorneys, are responsible for, and entrants release all such parties from any claim, cause of action or liability, including without limitation those relating to any personal injury, death, loss, expense or damages of any kind, under any theory of law or in equity, arising from, (a) entry or participation in the Sweepstakes or limitation on entrant's ability to do so; (b) acceptance or use of any prizes awarded in the Sweepstakes; (c) incomplete, lost, late, damaged, illegible or misdirected e-mail and/or postal mail or other communication; (d) hardware or software failures of any kind; (e) lost or unavailable network connections; or (f) failed, incomplete, garbled or delayed computer transmissions, whether any of the foregoing are caused by users or by any of the equipment or programming associated with or utilized in the Sweepstakes, or by any technical or human error which may occur in the processing of submissions.
Consent to Publicity
Except where prohibited, registration for this Sweepstakes constitutes each entrant's consent to First Guaranty Bank's use of his or her name, likeness, voice, opinions, biographical information (including, without limitation, hometown and state) for promotional purposes in any media without further payment or consideration.
Requirements of the Prize Winner(s)
Prize winners must present a valid photo ID to claim the Prize(s). The Prize(s) can only be given to the winner(s), unless otherwise specified by the winner(s).
Entrants entering on behalf of a business will need to show proof of eligibility to receive prizes on behalf of business.